Meal Times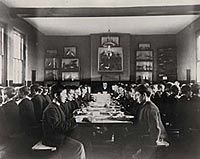 Not a pizza in sight! Find out about meal times and the food the children were given.
See how different it is from what you would eat today. Read the fact file, look at some original photographs then print the sources and try the worksheet.
What do you think?
If you had to eat their meals which foods would you miss the most?
Why do you think they read out letters from older children who had left the home?
Compare the dining rooms in the photographs with your school dining hall.
Printable worksheets and source material:
Diet:
worksheet PDF (12k) | source material PDF (102k)

These examples are from 1888. Breakfast was cocoa or coffee with bread and butter, dripping or treacle.
At breakfast time there might be announcements or letters read from older children who had left the homes.
Lunch was called dinner, it was the main meal of the day and might be Irish stew or cold beef with potatoes followed by boiled rice with jam or treacle.
Supper was the same as breakfast except for milk and water instead of coffee and cocoa.
On Sunday they had hot roast beef with greens, potatoes and bread.
At Christmas there might be sausages for breakfast and goose and plum pudding for dinner. Also candles on the tables and crackers to pull.