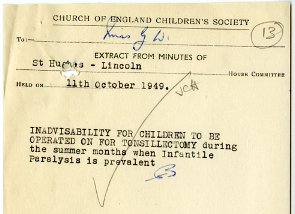 Note about tonsillectomies for children from St Hugh's Home, Lincoln
About this image
The first part of the project has found that before the establishment of the NHS, many families had to seek help from charities such as The Children's Society as they couldn't give their children vital medical treatment, and some families were pushed into poverty directly because of medical costs.
Historically, The Children's Society helped to provide medical treatment for these families, and the records shed light on the experiences of children with diseases such as tuberculosis, rickets, pneumonia and heart conditions among others.
By creating an online archive catalogue and through conservation work the records will be widely accessible to medical, social and academic researchers the post-care community and the general public among others.
Thanks to the recent grant from the Wellcome Trust, which takes the current total funding from the Trust to £211,124, the Unexplored Riches in Medical History project is able to build on what has already been completed. Through the project, The Children's Society will be able to open up access to its valuable records and promote important research into medical history, social history, and the history of childhood poverty and neglect.